Gamer's Chest
Regular price
$168.00
Sale price
$88.66
Save 47%
/
---
Gamer's Chest is a unique modular system that will help you organize and improve any board game. 
This All-in-One Tabletop Game Organizer is an ultimate set consisting of items every gamer finds necessary. There is no need to search for all these things separately.
The Gamer's Chest folds and unfolds in seconds. Thanks to its compactness, spaciousness and portability, it will allow you to take your favorite game with you wherever you go. 
Our product will save you all the hassle and inconvenience that can distract you from the game and allow you pure enjoyment of the gaming process.
You no longer have to think about such things as:
Where to store the game elements

How to organize the playing space

Where to put the dice for the game

How to make the dice rolls as unique as possible

And even where to put your favorite drink during the game
You get a completely assembled set for exciting game time. You can choose a standard Full Set which consists of:
Dice Tower with Arena - 1pcs

Simple Tiles - 12pcs (any design)

Bank Tiles - 2pcs (any design)

Dice Box - 1pcs

Coasters - 4pcs
Material:Bamboo



Drop your dice!
The top cover of the tower serves as a tray for catching dice rolling out of the tower. It resembles a lowered suspension bridge in front of the castle gates, to which the guards run out to defend their castle. In the game, these are rolling cubes that decide the fate of your game.

Have you ever blamed yourself for a bad roll of the dice? With our tower, you can forget about it and let it decide your fate. 4 levels inside the tower improve the randomness of the results of throwing dice, making them rotate uniquely and change the drop values.
Install in a second
The distance between the levels (2 inches) is sufficient to roll any number of dice, and they will not get stuck inside.
The levels are very easily installed in special grooves inside the tower, then they are ideally folded on top and covered with a dice tray.

The Dice Tray is conveniently mounted to the tower using two pairs of magnets.
Just light touch to add

When assembled, the dice tray serves as the top cover of the tower so that the toothed protuberances of the tray fit perfectly into the protrusions of the tower and are also held by 3 pairs of magnets.
Right place for all items
Modular tiles is a magnetic modular hex tile system that you can use with board games and role-playing games.
Each tile has magnets installed on the sides of the hexagon so that they can connect to each other and create an interlocking system.
Each tile is provided with a label so that the magnets' poles are connected to other magnets.

The lid of the box is securely held by magnetic latches that will not open even if dropped. At the same time, it can be opened quite easily with your thumb. 
Tiles are multifunctional!  
Dice Tower dimensions:
Folded - 5.51x6.37x10.63 inches (140x162x270 mm)
Unfolded - 5.51x6.37x9.84 inches (140x162x250 mm)
Internal height/capacity of the tower: 8.45 inches (214 mm)
Dice Tray dimensions: 0.98 "thick, 3.19" radius (25mm thick, 81mm radius)
Dice Box Dimensions: 1.18 "thick, 2.28" radius (30mm thick, 58mm radius)
Inner Dimension: 0.87 "
Simple Tile Dimensions: 0.4 "thick, 2.28" radius (10mm thick, 58mm radius)
Bank Tile dimensions: 0.8 "thick, 2.28" radius (20mm thick, 58mm radius)
Coaster Dimensions: 0.2" thick, 2.28" radius (5mm thick, 58mm radius)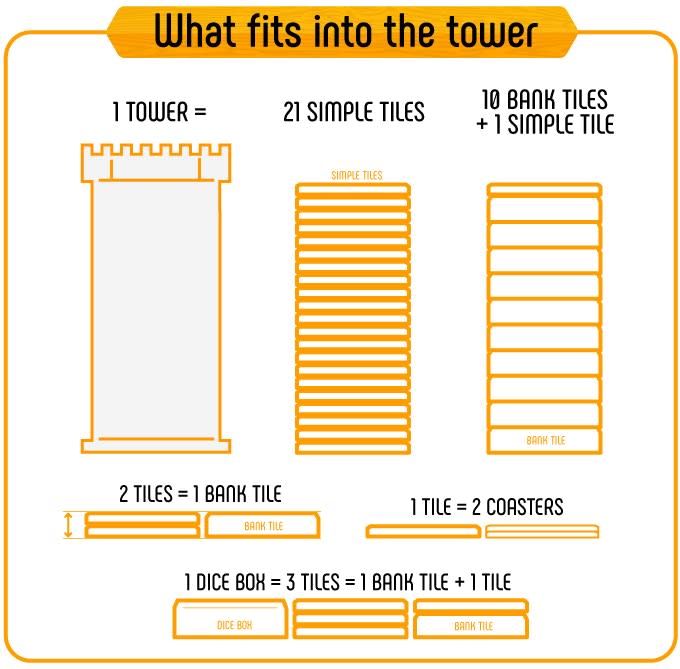 We want you to love your new purchase. If you receive your product and find it's not quite the right fit for your space please contact our customer service team at https://hometravelbath.com within 48 hours of the receipt of products. All returns must be pre-authorized by our head office prior to returning the products.
We have a few guidelines for the return process:
Returns must be received in original condition, if there are damages to the product upon your receipt please indicate this on your return inquiry and provide images.

Please use the original packing as far as possible, if not please f

ully protect your return item with bubble wrap, packing peanuts, tissue, etc. and enclose in a size appropriate box or envelope.

Once the item is back at our warehouse it will be inspected by our team. Provided it is in as-new condition we will issue a refund less any applicable fees.

Should the products return to us in a damaged/ used condition ---- deductions will be applied prior to refund.

Shipping charges are non-refundable. You will be responsible for outbound and return shipping and delivery charges.
We will apply your refund to the original form of payment within 5 - 7 business days of receipt. Should you have any questions, please e-mail us at Lisa@hometravelbath.com, with the subject heading of ONLINE RETURN: INQUIRY – [ORDER NUMBER].
What can't be returned or exchanged?
We do not offer exchanges, but if you would like to purchase an item in lieu of what you originally bought, please return the item, using the return steps above, and simply place a new order for the item that you would like. A refund from the return will be applied towards the new purchase.
Custom Orders - as these pieces have been made specifically for you, we do not guarantee we will accept returns. Return inquiries will be reviewed by our customer service team. If the return is approved you will be refunded, less a 20% restocking fee.
Please Note: All COM orders are final sale and are not eligible for a refund.
clearance items are final sale and cannot be returned
Can orders be cancelled?
We can accept cancellations of your order if the products have not yet shipped or are on backorder. If the item has been shipped to you it may not be cancelled. Please see above return policy for return details.

Custom and special order in items cannot be cancelled.
Incorrect or Defective Item:
If we have shipped the incorrect order or defective item, please email Lisa@hometravelbath.com with subject heading of ONLINE ORDER: INCORRECT ITEM (or) DEFECTIVE ITEM, detailing what is incorrect or defective along with a picture of the piece. They will provide further instruction on how to return. Please e-mail us and return the incorrect item within 30 days of the receipt date and a defective item within 30 days of receipt date.
Return Address:
Room 1009, No. 6,Hubin East Road,Siming District,Xiamen City,Fujian Province,China.
If you have any questions on the above, please send us an email at Lisa@hometravelbath.com or 

access online customer service through the lower right corner .

we will reply to your inquiry promptly.
Thank you for your patience!